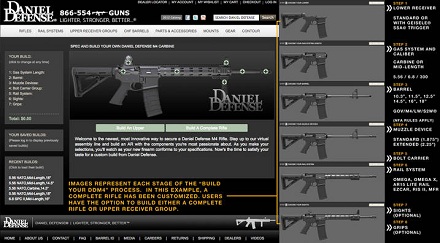 A recent addition to the Daniel Defense website insures you get exactly what you want out of your DDM4 with the appropriately named 'Build Your DDM4′ feature. 'Build Your DDM4′ allows you to choose the options you'd like in either a full rifle or upper receiver group. Options include:
*Lower receiver with standard or Geissele Super Semi-Automatic (SSA) Trigger
*Mid-length or carbine gas system
*Three caliber choices – 5.56mm NATO, 6.8 SPCII, and 300 Blackout
*Barrels – 10.3″, 11.5″, 12.5″, 14.5″, 16″, 18″ (NFA rules apply)
*Standard or extended muzzle device
*Bolt carrier group – standard or chrome plated
*Rail systems – Omega, Omega X, AR15 Lite Rail EZCAR, RIS II, MFR
*Sights (optional)
*Grips (optional)
After you're finished, 'Build Your DDM4′ not only gives a total price for your design, but also allows you to place an order, save your created rifle as a wall paper, and save the design on the site for future reference (customer registration required).

https://danieldefense.com/
Tags: Daniel Defense, Gun Pr0n