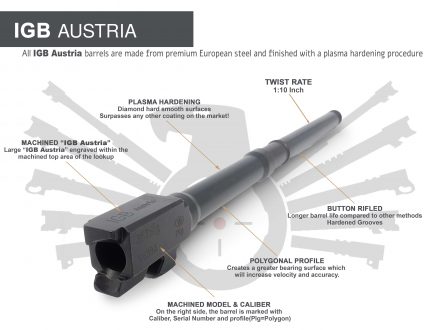 YRS Inc. is currently selling IGB Austria 16″ barrels for Glock 9×19 and .357 SIG models. The barrels are made of non-specified "European high grade barrel steel", with a plasma nitride finish, and a 1:10 twist rate with button rifling. In all seriousness, using one of these barrels offers a quick, drop-in method to convert a Glock into a pistol caliber carbine, when combined with a conversion kit, such as a RONI. However, these barrels are designed to function as is when installed, so if having a Glock capable of shooting down the Batwing is your goal, have at it!
www.yrsinc.com/en/glock-16-barrel-igb-austria-16-inch-barrel-for-glock-17-17l-20-21-22-24-31-34-35
Also available for .40 S&W, 10mm Auto, and .45 ACP model Glocks.