Archive for the 'Load Carrying' Category
Thursday, July 6th, 2017
Blue Force Gear made 25 of these custom pouches for "Star Trek Beyond".
This post was originally featured on SSD.
Posted in Load Carrying, Movies | No Comments »
Thursday, June 8th, 2017
Bellingham, WA, June 7th, 2017
For immediate release
One June 6th, Magna Tactics launched their Kickstarter campaign for a unique new magnetic latching belt called the Magna Belt. This belt is an innovative and fast latching belt tailored for both normal, and concealed carry use. This made in USA startup company is now funding their campaign on Kickstarter and taking belt pre-orders here: www.kickstarter.com/projects/857299194/magna-belt-the-magnetic-latching-tactical-belt
Starting at $65 for an early bird special, the Magna Belt is a sturdy and rugged belt made to revolutionize the belt market. It boasts many features unique to an EDC belt making it stand out from the crowd.
Fast magnetic latch.
Single size – No need to worry about picking the wrong size.
One-time adjustment – Stays adjusted to the size you pick until you want to change it.
Durable anodized hard coat.
Fits through standard belt loops – Most tactical belts require large loops to fit through, but not the Magna Belt, slide the belt in and out of pants without ever changing the adjustment size.
Pivoting latch – A small range of motion has been designed in to help the belt move with you for comfort.
Patent pending design – You won't find this belt anywhere else.
Proudly 100% Made in the USA
The belt will be offered in a variety of seven plate colors to start with, along with potential for more colors depending on demand. They also will releasing a fully stitched double thick belt for extra support, if the campaign funding reaches the stretch goal before it ends on July 6th.
Magna Tactics founder Mike Howe has years of experience in both the product design, engineering, and manufacturing sectors, in everything from high end automotive parts, to tactical EDC gear. Branching out now to start his own business, he hopes to bring high quality American made products to the market, and help bring manufacturing and jobs back to the USA.
Tags: Kickstarter, Magna Tactics
Posted in crowdfunding, Load Carrying, Press Release | No Comments »
Friday, June 2nd, 2017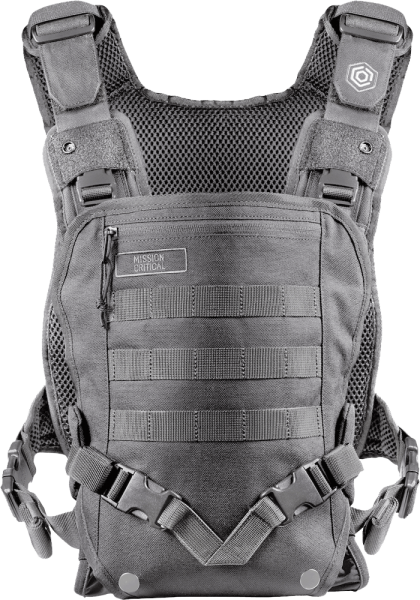 Mission Critical's Baby Carrier is a great option for tacticool dads everywhere. Made of 1000D nylon, the carrier features PALS webbing on the front and rear, along with YYK zippers, and a sun shield for the little one. This Baby Carrier also meets all applicable ASTM regs for baby carriers, and is designed to hold children up to 35 lbs.
Available in Black, Coyote, and Gray.
www.missioncritical.cc/collections/products/products/babycarrier
Tags: Mission Critical
Posted in Load Carrying | No Comments »