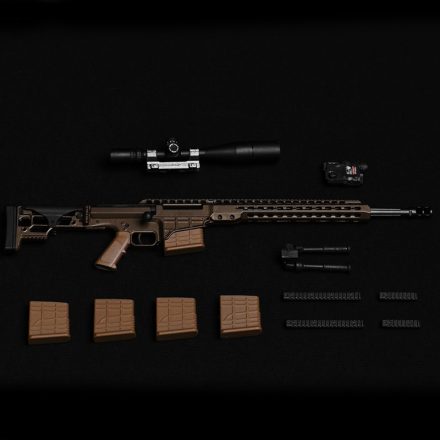 Barrett partnered with Mission Specific Equipment, a noted manufacturer of 1/6 Scale Action Figures, Parts, and Accessories, and produced a limited edition run of 1/6 Scale MRAD Rifles. These rifle models are perfectly sized to use with 12″ figurines, and came with the following accessories:
1x Rifle Stand
1x Tactical Bipod
1x Long Range Rifle Scope
1x PEQ
5x Rifle Magazines
1x Rail System Set
The rifle models were available in four colors: FDE, MRB, OD Green, and Tungsten Grey. Unfortunately, they're long sold out by now, so if you're looking to add these to your collection you might want to keep your eyes open on various collector and auction sites.