Posts Tagged 'The Punisher'
Thursday, April 6th, 2017
Sunday, May 29th, 2016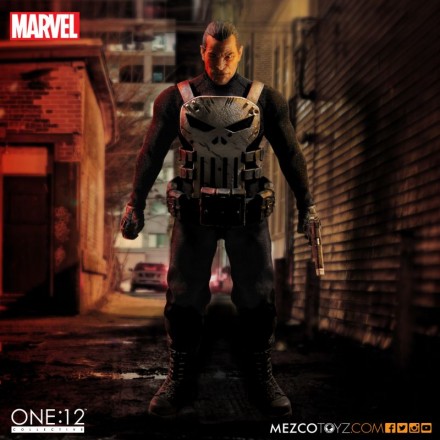 Mezco has put out a pre-order for this great looking Punisher figure as part of the One:12 Collective line. The figure is 1:12 scale, featuring a highly realistic fabric uniform with "special silk screening applications", and sculpted costume accents (belt, gloves, harness, and boots). Also included with the figure:
Three "portraits" (head sculpts/faces)
Fists
Holding hands
Grappling hands
Left posing hand
Right strike hand
Armored skull load bearing vest with belt and knife sheath
Combat knife
9mm pistol with magazine
Machine gun with magazine
Submachine gun with magazine
Grenade launcher with 6 grenades
Wednesday, July 18th, 2012
*Spoiler alert*
It's a Punisher fan-film. In fact, it's a brilliant Punisher fan-film that shows just how perfect Thomas Jane is for the role of Frank Castle. Add in Ron Perlman in a cameo role and plenty of that classic Punisher-style ultra-violence justice, and you've got a winner of a video.
Oh, and a fair bit of warning: between the language and the bone breaking, head smashing, gunshots, and leg biting, this video definitely earns its place in the NSFW category.